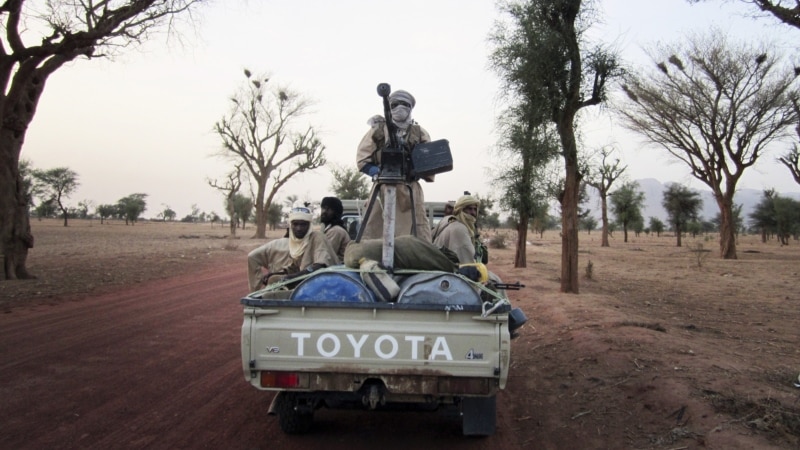 Residents of Goundam, in Mali's Timbuktu region, rose up against the armed group Ansar Dine on Friday after the group carried out beatings in its bid to impose strict Islamic law.  Goundam residents said people began demonstrating after the group whipped a woman holding an infant.
One resident said the situation was calmer, but tense by Friday evening.  He said five vehicles with Ansar Dine reinforcements arrived in the late afternoon in Goundam, a town about 80 kilometers southwest of the city of Timbuktu.  Ansar Dine threatened it would round up demonstrators and the streets cleared out, he said.
Hours earlier, at mid-day local time, tires burned in the streets of Goundam, and youths carrying clubs and machetes were rallying throughout the town.
Goundam lies in the zone that was seized by Tuareg separatists and Islamic militants in late March and is now completely controlled by Islamic groups, including Ansar Dine.
Ansar Dine says it wants to impose a strict interpretation of Islamic law throughout Mali.  It has carried out severe corporal punishments and in recent weeks destroyed ancient Muslim shrines in Timbuktu it says are sacrilegious.
Residents of Goundam say Ansar Dine's beating of a woman holding her child pushed the population over the edge Friday.
"The woman was at a pump to get water, her baby on her back," said Alassane Cissé, 47, a school director and native of Goundam.  "Members of Ansar Dine were passing by and started to whip her because her scarf was down around her neck and not on her
Comments
comments
Category: Africa