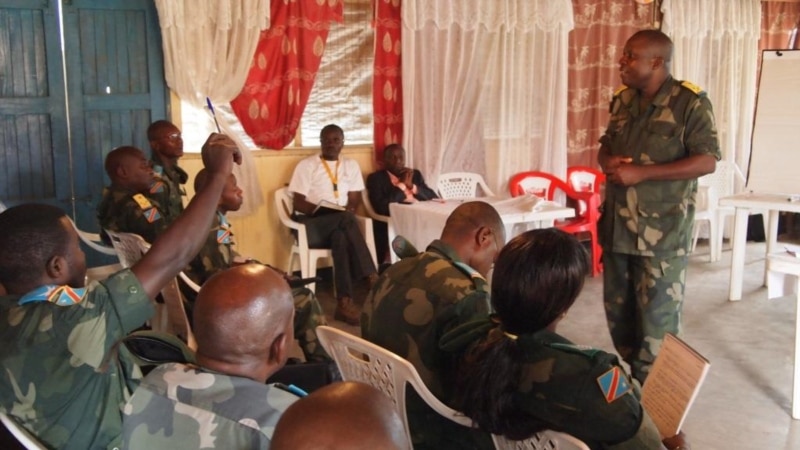 KINSHASA — The Democratic Republic of Congo's army has a new slogan – Lobi Mokolo Ya Sika – Tomorrow Is a New Day. It's also the name for a new education program to educate soldiers on the basics of human rights, the rules of war, and how to improve civilian relations.
While donors have been funding human rights training for the Congolese army over the past five years, Lobi Mokolo Ya Sika is being conducted by the military with help from Search for Common Ground (SFCG), a U.S.-based non-governmental organization.
"The government has come a long way and we assisted them with the training," says Dirk Van Koch, the NGO's Congo director. "Are we done yet? No. That's why we're continuing with the training, and especially what we see is that there are continuous new groups being absorbed into the army, new recruits often straight from the bush without any education. That's what we will be focusing on."
Some of the former militiamen – often boys who were recruited at a young age by armed groups of eastern Congo – have provided Van Koch's organization with recorded accounts of their personal experiences. In one testimony filmed by SFCG, for example, the subject describes how his group collected human organs and even cut off women's breasts to use as fetishes to ward off enemies.
Teaching Codes of Conduct
Seven-hundred miles away in the eastern town of Bunia, a Congolese army colonel lectures officers who will be sent back to their units with instructions about how to raise
Comments
comments
Category: Africa